---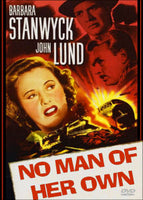 Sale
No Man of Her Own 1950 DVD (Region 1 - Playable in North America - The US, Canada, Mexico, etc.) Black & White. New price!

Starring: Barbara Stanwyck, John Lund, Phyllis Thaxter, Lyle Bettger.
Helen Ferguson (Barbara Stanwyck), pregnant, penniless and dumped by her boyfriend Steve Morley (Lyle Bettger), takes the identity of the pregnant Patrice Harkness (Phyllis Thaxter) after she and her husband are killed in a train crash. Helen goes to the home of Harkness' new wealthy in-laws and is welcomed as their surviving daughter-in-law, although there are several gaps in her memory. Helen's life improves slowly and she is happier than ever before---until her nasty boyfriend finds her and threatens to expose her sham unless she comes across with lots of cash.
An intense thriller filled with riveting twists and turns, based on a story by the renowned mystery writer Cornell Woolrich (Rear Window).