---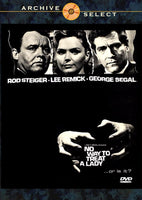 Sale
NO WAY TO TREAT A LADY (1968) DVD COLOR Approx. 105 minutes (Playable in North America - The US, Canada, Mexico, etc.) Widescreen presentation (enhanced for 16:9 TVs) English sub-titles (close captioned) Beautiful restored print. New reduced price for a limited time

Starring: Rod Steiger, Lee Remick, George Segal, Eileen Heckart, Michael Dunn, Murray Hamilton, Doris Roberts.
Written by John Gay and William Goldman. Directed by Jack Smight.
Christopher Gill (Rod Steiger) is a psychotic killer who uses various disguises to trick and strangle his victims. Moe Brummel (George Segal) is a single and harassed New York City police detective who starts to get phone calls from the strangler and builds a strange alliance as a result. Kate Palmer (Lee Remick) is a swinging, hip tour guide who witnesses the strangler leaving her dead neighbor's apartment and sets her sights on the detective. Moe's live-in mother (Eileen Heckart) wishes her son would be a successful Jewish doctor like his big brother.