---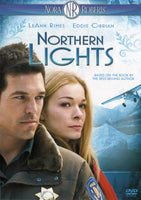 Northern Lights (2009) DVD "Nora Roberts Northern Lights" Eddie Cibrian, LeAnn Rimes Shown in original widescreen 1.78: 1 aspect ratio Approx. 92 min. With optional English subtitles. Region One - Playable in the US, Canada, Mexico, etc. Beautiful print!
Starring: LeAnn Rimes, Eddie Cibrian, Rosanna Arquette, Greg Lawson, Jayne Eastwood, William Macdonald, Christianne Hirt, Adrian Hough, Billy Merasty, David Brown, Marty Antonini, Justin Michael Carrier and David Cowley. Written by Janet Brownell and Nora Roberts, based on the book "Northern Lights" by Nora Roberts. Directed by Mike Robe.
Haunted by the death of his partner, former Baltimore cop Nate Burns (Eddie Cibrian) accepts the job as chief of police in the remote outpost of Lunacy, Alaska. Once there, he falls for Meg Galligan (LeAnn Rimes), a feisty bush pilot with her own demons. When Meg's father, a man she's long believed abandoned her and her mother Charlene (Rosanna Arquette), turns up dead, Nate becomes embroiled in a high-profile murder investigation - and must use his big-city survival instincts to solve an elusive mystery threatening his new life and love.