---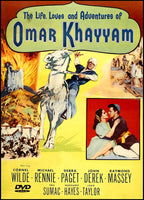 Sale
Omar Khayyam (The Life, Loves and Adventures of Omar Khayyam and The Loves of Omar Khayyam) 1957 DVD (Region 1 - Playable in North America - The US, Canada, Mexico, etc.) Color Full-frame approx. 100 min.
Starring: Cornel Wilde, Michael Rennie, Debra Paget, John Derek, Raymond Massey, Sebastian Cabot, Edward Platt and Yma Sumac. Written by Barré Lyndon. Directed by William Dieterle.
Omar Khayyam was a fictional biographical account of the life of the 11th century mathematician-poet who lived in Baghdad. Since very little details of his life are known, the filmmakers freely took the opportunity to weave a script which included sultans, thieves, intrigue, harems, and a beautiful princess. All the prime ingredients for an Arabian night fantasy.
It begins with our hero (Cornel Wilde), the wise poet, discovering that his beloved (Debra Paget) is to become the Shah's (Raymond Massey) newest bride. Forlorn at the thought of losing her Khayyam obtains a position at the palace as chief astronomer to be near her, and lo! what does he discover here but schemes of betrayal stirring within the palace walls!
As Khayyám said, "Be happy for this moment. This moment is your life."