---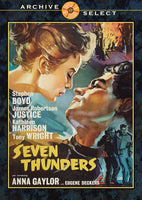 Sale
The Seven Thunders (AKA The Beasts of Marseilles) 1957 DVD (Region 1 - Playable in North America - The US, Canada, Mexico, etc.) B&W Beautifully re-mastered! New, lower price!

Starring: Stephen Boyd, James Robertson Justice, Tony Wright, Anna Gaylor, Anton Diffring, George Coulouris, Rosalie Crutchley, James Kenney, Eugene Deckers, Kathleen Harrison, Gerard Heinz. Written by John Baines, Rupert Croft-Cooke. Directed by Hugo Fregonese.

In 1943, Dave (Stephen Boyd), an officer, and Jim (Tony Wright), escape from separate prison camps and are paired together by the French Resistance. They are taken to Marseilles by a fishing boat captain to wait for the right opportunity to try for England. While they wait, local woman Lise (Anna Gaylor) falls in love with Dave. He is attracted to her, but is engaged. Meanwhile, Emile Blanchard (Eugene Deckers) refers those desperate to leave France to 'Dr.' Martout (based on a very real 'Dr. Petiot', who was tried and convicted of 26 murders, but suspected of over 100 and played wonderfully by James Robertson Justice), unaware that his associate is a serial killer who grows rich from his crimes. Given an ultimatum by his displeased superiors to do something about the French Resistance, the German military commander of the city decides to evacuate and demolish the crime-infested Old Quarter, where Dave and Jim are hiding, with only two hours warning. Dave wants to wait for the fishing captain, but Jim chooses to try Dr. Martout. When the captain does show up, Dave goes to fetch Jim, and rescues him  from Martout's clutches. With buildings blowing up left, right and center, the pair prepare to make their way to freedom....
"…beautifully shot with some beautiful street scenes. Not what you expect, but the appealing cast and cinematography keeps you involved." A must see!