---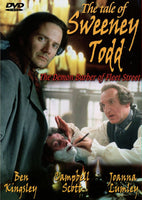 The Tale of Sweeney Todd - The Demon Barber of Fleet Street (1998) DVD Region One (Playable in North America – The US, Canada, Mexico, etc.) Colo. New, lower price!
Starring: Ben Kingsley, Joanna Lumley, Campbell Scott, and David Wilmot. Directed by John Schlesinger. Produced by Ted Swanson.  Screenplay by Peter Buckman. Story by Peter Shaw.
The fictional tale of the murderous 19th century barber (Ben Kingsley) who sold his kills to a neighboring butcher (Joanna Lumley) for her renowned meat pies. A young innocent (Selina Boyack) and the dashing inspector (Campbell Scott) try to solve the murders and become unsuspecting prey.
"Kingsley... is a class-war wonder to behold... Even more of a surprise than Kingsley's performance is that director John Schlesinger, so very serious in movies like Midnight Cowboy and Marathon Man, would have so much fun with this blackest of humors." John Leonard 'New York'
Ben Kingsley was nominated for the Screen Actors Guild Award for Outstanding Performance by a Male Actor in a Miniseries or Television Movie.