---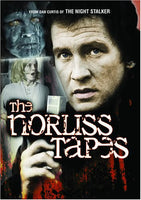 Sale
The Norliss Tapes DVD (Region 1 - Playable in North America, the US, Canada, Mexico, etc.) Color. New (temporary) lower price.

Starring: Roy Thinnes, Angie Dickinson, Vonetta McGee, Claude Akins, Don Porter, Hurd Hatfield, Michele Carey, Robert Mandan, Ed Gilbert, Bryan O'Byrne, Jane Dulo, Stanley Adams, George DiCenzo. Written by William F. Nolan from a story by Fred Mustard Stewart. Directed by Dan Curtis.

Before "THE X FILES", there was "THE NORLISS TAPES" From Dan Curtis (DARK SHADOWS, TRILOGY OF TERROR & THE NIGHT STALKER) Roy Thinnes stars as David Norliss, an investigative reporter writing a book exposing supernatural hoaxes and paranormal phenomena. But after a frightened phone call to his publisher, Norliss disappears leaving only a stack of cassettes on which he's dictated his strange findings. When a wealthy widow (Angie Dickinson) is attacked by the crazed corpse of her recently deceased husband, Norliss discovers a horrific case of empty crypts, blood-drained corpses and occult violence. What is the significance of an ancient Egyptian scarab? Who is completing a bizarre sculpture in the dead man's studio? And what has happened to David himself? The terrifying answers – and shocking truth – may lay hidden in THE NORLISS TAPES. Vonetta McGee (BLACULA) and Claude Akins co-star in this landmark pilot produced and directed by Dan Curtis (DARK SHADOWS, THE NIGHT STALKER) and written by William F. Nolan (LOGAN'S RUN, BURNT OFFERINGS) that fans still call one of the most frightening made-for-TV movies of the decade.
Review: "It is a very well done (kudos to Dan Curtis of DARK SHADOWS, etc) occultish-vampirish horror movie. The setting for this film is as atmospherically driven as was the "Dark Shadows" Intro... if you can see this film, I wholeheartedly recommend it. A fine cast, with Roy Thinnes in the lead, investigator role and Claude Akins as the unbelieving lawman.... if you liked Carl Kolchak or Fox Mulder, this film is right there... find the truth for yourself...."