---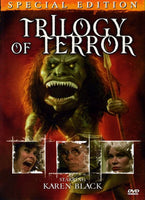 Trilogy of Terror (1975) Color DVD Region One (Playable in North America: The US, Canada, Mexico, etc.) SPECIAL EDITION.

Starring: Karen Black, Robert Burton, John Karlen, George Gaynes, Jim Storm Writers: Richard Matheson, William F. Nolan Produced and directed by Dan Curtis.
In this made-for-TV horror showcase, Karen Black plays four separate roles in three successive tales written or based on the works of venerable genre writer Richard Matheson. In "Julie," Black portrays a prim college literature instructor who engages in a debauched affair with one of her students after he drugs, date-rapes, and blackmails her into submission; here and in the other stories, however, things aren't what they seem. "Millicent and Therese" features the actress in two roles as good sister/bad sister twins who use witchcraft to settle their sexual and moral differences. In the final and most famous segment, "Amelia," Black plays a spinster with an insufferable mother who sublets a high-rise apartment in the city in order to find romantic freedom. When she purchases a Zuni fetish warrior doll as a present for her anthropology-professor beau, it comes to life and chases her around the flat with considerable tenacity.
Legendary producer / director Dan Curtis (DARK SHADOWS, THE NIGHT STALKER) teamed up with writers Richard Matheson (I AM LEGEND, THE TWILIGHT ZONE) and William F. Nolan (LOGAN'S RUN, BURNT OFFERINGS) to present these three tales of the horrific .
"An electrifying experience - you won't believe your eyes!"