---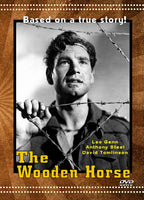 Sale
THE WOODEN HORSE 1950 B&W Region One (playable in US and Canada) Remastered.

Starring: Leo Genn, Anthony Steel, David Greene, David Tomlinson, Michael Goodliffe, Bryan Forbes, Peter Burton, Anthony Dawson and Peter Finch. Written by Eric Williams. Directed by Jack Lee and Ian Darymple.

Based on a true story!
In camp Stalag Luft III, the Nazis have built the prisoners' huts so far from the fence that underground escape is virtually impossible.
One British officer, inspired by the tale of the Trojan Horse, proposes a daring plan to start a tunnel close to the boundary using a wooden vaulting horse as cover.
 ""The Wooden Horse" is a terrific prison escape movie with a fascinating story and a lot more drama and atmosphere than later more action packed prisoner of war movies." The Moviescene
"Charged with high voltage excitement !The Story of the Most Daring Prison Escape During World War II !"