---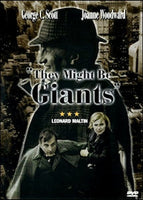 Sale
They Might Be Giants DVD 1971 (Region 1 - Playable in North America - The US, Canada, Mexico, etc.) Widescreen. Color. Run time approx. 98 minutes (this is not the shorter, edited version) New, lower - temporary - price.

Starring: George C. Scott, Joanne Woodward, Rhue McClanahan, Jack Gilford, Oliver Clark, Theresa Merritt, Jennie Egan, Kitty Winn, Sudie Bond, F. Murray Abraham. Written by James Goldman. Directed by Anthony Harvey.

Former judge Justin Playfair (George C. Scott) lost his wife a few years back, and ever since he's thought he's Sherlock Holmes, determined to find his arch-nemesis Professor Moriarty, in this thoroughly charming tale of madness and romanticism. Playfair (er, Sherlock) is about to be committed by his brother, who wants his money, when by serendipity he's teamed up with psychiatrist Dr. Mildred Watson, no less (Joanne Woodward). She finds him fascinating, being a bit daffy herself, and together they get involved in various intrigues, mostly aimed at evading the medical authorities, but which allow the two to fall in love.
A one-of-a-kind lark with a few more puzzles than answers and which resonates long after its deeds are done.
Extras include: Theatrical trailer, Director's Commentary, Commentary by archivist Robert A. Harris, featurette "MADNESS... IT'S BEAUTIFUL" and talent bios. Also includes the "supermarket" scene.

"When they reach out for each other... they touch every heart... with warmth, charm and laughter!"