---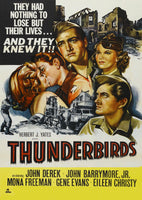 Sale
Thunderbirds (Region One – Playable in US and Canada / North America) 1952 B&W
Starring John Derek, John Drew Barrymore, Mona Freeman, Gene Evans, Eileen Christy, Barton MacLane, Ben Cooper, Wally Cassell, Scott Elliott, Slim Pickens, Mae Clarke, Allene Roberts, Norman Budd and Ward Bond. Written by Mary C. McCall Jr from the story by Kenneth Gamet. Directed by John H. Auer.

Gil (John Derek) and Tom (John Barrymore Jr.) are best friends from a small Oklahoma town who serve together in the National Guard. After the Japanese bomb Pearl Harbor, their unit is mobilized and shipped out to the Mediterranean. They see combat in numerous campaigns throughout the war, watching friends and rivals die in Italy, France and Germany. Along the way they assist the Navajo code talkers they grew up with, monitoring radio transmissions the Nazis cannot decipher.
"The Fighting Thunderbirds,,,AND THE GALS WHO LOVE 'EM!"
*Very, very few prints of THUNDERBIRDS exist. After an extensive search we found what we believe to be the best surviving elements. We are pleased to make this available here on DVD, however the quality is not what you would expect of a state-of-the-art re-mastered print. It is rough. On a scale of 1 to 10 it would be a six or seven. But it is great for those who truly wish to see this almost lost wonderful WWII film.