---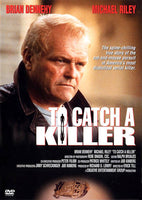 Sale
To Catch A Killer 1992 DVD (Region 1 - Playable in North America - The US, Canada, Mexico, etc.) Complete, Uncut  189 minutes. Color. New, temporary price reduction!

Starring: Brian Dennehy, Michael Riley, Margot Kidder, Meg Foster, Martin Julien, Scott Highlands, Tony De Santis, John Boylan, Mark Humphrey. Written by Jud Kinberg. Directed by Eric Till.

Brian Dennehy is brilliantly disturbing in this true gruesome story of John Wayne Gacy - a good friend and helpful neighbour, a great party clown and child entertainer, a respectful businessman, and the notorious violent serial killer who raped and murdered over thirty young boys. He buried most of them in the crawlspace beneath his own house.
Gacy became known in the annals of criminal history as "The Killer Clown".
 According to Brian Dennehy, John Wayne Gacy wrote him a letter in protest of the film and to proclaim his innocence. Dennehy said he did not respond to him.
Review: "This is a top-flight procedural, based on how one persistent cop finally captured John Wayne Gacy, but what really makes it stand out from the crowd is Brian Dennehy's outstanding portrayal of Gacy. Dennehy has immense charm, but here he shows he can turn on a dime an convert it instantly into stomach-churning menace. There is one scene in which Dennehy shows Gacy's dark side starting to come out at an inappropriate moment, and then catching himself -- it is one of the finest pieces of acting I have ever seen anywhere. The look of repressed, murderous lust appearing on his face and then being put back in the box is something I'll never forget. Neither Brando nor Olivier could have topped it."