---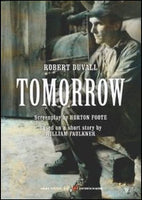 Sale
Tomorrow DVD (Region One - Playable in the US, Canada, Mexico, etc.) 1972. Black & White.
Starring: Robert Duvall, Oga Bellin, Sudie Bond. Written by William Faulkner (story) and Horton Foote (play). Directed by Joseph Anthony.

Based on the William Faulkner story and featuring one of Robert Duvall's finest performances, Tomorrow was first adapted by Horton Foote for TV's Playhouse 90 in 1960. Eight years later, Foote--whose script for "To Kill a Mockingbird" provided Duvall's screen debut--presented the same story as an off-Broadway play with Duvall and Olga Bellin in the lead roles, which they reprised in 1972 for this independently produced film. As with "Tender Mercies" -- which earned Academy Awards for both Foote and Duvall in 1983 -- Tomorrow tells a simple tale of gentle people, and the sensitive script, direction, and performances offer an enlightening portrait of compassion and unconditional love. Duvall plays Fentry, a Mississippi cotton farmer in the early 1900s who leaves his father's farm to work as the winter watchman of a dormant sawmill. There, he encounters Sarah (Bellin), a pregnant woman abandoned by her husband and suffering from a life-threatening illness. They eventually marry, but inevitably, Fentry (portrayed by Duvall as a kind of holy innocent) alone must raise the woman's child--a good-natured boy whose fate is determined by a heartbreaking claim of familial custody. The story is framed by a murder trial, the outcome of which leads to the film's resonant and quietly moving conclusion. Like so much of Foote's work, Tomorrow was tailor-made for Duvall, and it has much to say about endurance, integrity, and uncommon decency under difficult circumstances. Directed by Joseph Anthony with an appropriately somber tone, this delicate drama nevertheless offers a wise and uplifting affirmation of the resilient human spirit.
For Duvall's many admirers, this is a must-see film.