---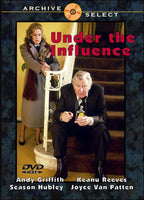 Under the Influence (1986) TV-movie DVD Color New price reduction (limited time)

Starring: Andy Griffith, Keanu Reeves, Joyce Van Patten, Season Hubley, Paul Provenza and William Schallert. Written by Joyce Rebeta-Burditt. Directed by Thomas Carter.
Noah Talbot (Andy Griffith), a hard-drinking family man, has been successful in his business despite his alcoholism. His daughter Ann (Season Hubley), a professional, struggles to meet her father's high expectations while she becomes addicted to prescription drugs; his son Eddie (Keanu Reeves), who works for him and who serves as both his whipping boy and his drinking buddy, is becoming an alcoholic like his dad. Talbot's drinking finally takes its toll on his health, as his life - and those around him - spin out of control.
 "Andy Griffith's portrayal is top-notch. UNDER THE INFLUENCE is an excellent representation of the dysfunctional, alcoholic family. I believe that this is a must to see for any alcoholic, family member of an alcoholic family and even any member of a dysfunctional family." – The Wanda Group
*Very few prints of UNDER THE INFLUENCE exist. After an extensive search we found what we believe to be the best surviving elements. We are pleased to make this available here on DVD. Quality is not great – and one should not expect state-of-the-art re-mastered quality - but it is a treasure for those who truly wish to see this moving portrayal of the devastation alcoholism can bring to a family.