---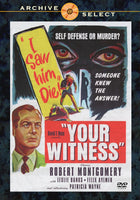 Sale
Your Witness (aka Eye Witness) DVD (Region One - plays in North America - the US, Canada, Mexico, etc.) 1950. Black and White Beautiful transfer!
Starring: Robert Montgomery, Leslie Banks, Patricia Cutts, Michael Ripper, Felix Aylmer, Andrew Cruikshank, Harcourt Williams, Jenny Laird, Ann Stephens, Dandy Nichols, John Sharp. Written by Hugo Butler, Ian McLellan Hunter, William Douglas-Home. Directed by Robert Montgomery.

Adam Heyward (Robert Montgomery), a leading American lawyer, hears that the man who saved his life at Anzio beach is now facing a murder charge and decides to come to England to defend him. Arriving in a picture-postcard village, he learns of a female witness whose evidence might exonerate his friend, but who had fled the scene of the alleged crime in fear. In his efforts to trace her, Heyward faces a number of delicate and perplexing situations, all leading to a gripping climax...

An intelligent, well-made thriller both starring and directed by double-Oscar-nominated Hollywood veteran Robert Montgomery, "Your Witness (Eye Witness)" also features the magnificent Leslie Banks in one of his final roles, and appearances by Stanley Baker, James Hayter and Michael Ripper.
It is presented here in a brand-new transfer from the original film elements in its as-exhibited theatrical aspect ratio.
"I Saw Him Die!" I was there and only I know whether it was murder or self defense! A Man's Life - or a Woman's Honor?... He had to choose!"