---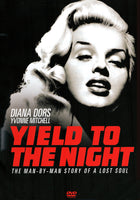 Yield to the Night aka Blonde Sinner DVD (1956) Diana Dors Shown in original 1.33: 1 aspect ratio. Approx. 96 min. With optional English subtitles. Region One - Playable in the US, Canada, Mexico, etc. Beautiful print!
Starring: Diana Dors, Yvonne Mitchell, Michael Craig, Geoffrey Keen, Olga Lindo, Liam Redmond, Marie Ney Written by Joan Henry and John Cresswell. Directed by J. Lee Thompson.
A Diana Dors vehicle, based on the real-life case of Ruth Ellis, the last woman to be hanged in Britain. Mary Price Hilton (Diana Dors) is a condemned murderess about to face the hangman's noose. As she awaits the sentence, she relives the series of events that have brought her to this situation. Abused by men all her life, she thinks she's finally met the right man, only to discover that he too has been taking advantage of her. Finally reaching breaking point, she exacts deadly revenge on her husband's mistress.
Diana Dors often said YIELD TO THE NIGHT was one of her favorite roles.
Would YOU Hang This Girl?